New positions at New Robotic and Liverpool Telescopes
15 Jun 2023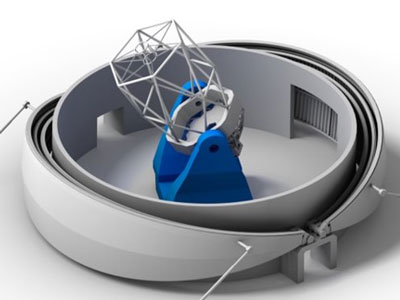 NRT in clamshell enclosure; latest June 2023 render by NRT Structural Engineer Luka Gradišar.
The New Robotic Telescope (NRT) team welcomed two new members of staff this month. Dr Chloé Miossec joins from the University of Liverpool full-time as Instrument Scientist, and Dr Richard Ashley joins part-time from the Isaac Newton Group of Telescopes as Visiting Research Fellow.
Both Chloé and Richard will be building on the work started by previous NRT instrumentation scientist Dr Éamonn Harvey. They will develop the first-light instrumentation that will deliver the core science goals of the telescope.
Meanwhile Professor Iain Steele, the overall head of the ARI Technology Group that encompasses both NRT and LT, will now be devoting all of his time to ensuring the successful delivery of the NRT project.
Dr Chris Copperwheat is stepping into the role of Director of the Liverpool Telescope to lead the daily running of the facility.