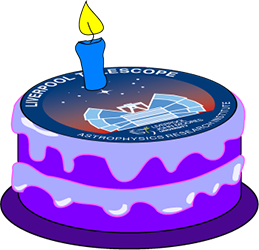 Artist's impression. Adapted (badly) by J. Marchant from free cake drawing released under Creative Commons CC0 at Pixabay.
15th Anniversary Celebration
2 May 2019
This year the Liverpool Telescope celebrated 15 years of continuous robotic observation of the Universe. The telescope went robotic for the first time on 22nd April 2004 (see archive news item) and routine robotic operations began in December 2004 (see the Night Reports from that time for a bit of nostalgia). Since then the LT has been delivering high impact science by robotically observing the night sky from its home on the Canary Island of La Palma.
To mark this milestone, Liverpool John Moores University's Astrophysics Research Institute held a celebration on 24th April at nearby Sensor City in Liverpool. The evening brought together members of the LT team, past and present, to provide an exciting history from concept to construction with an insight into daily operation.
Prof Iain Steele talked about how and why the initial concept came about, the building of the telescope, and its first ever observation ("first light"). Dr Chris Copperwheat reviewed the impact on science that the LT has made over the years, and Dr Helen Jermak talked about the LT going into the future.
Below are some photos from the event; a link to the full Flickr album is here.