New Robotic Telescope website launched
28 Feb 2019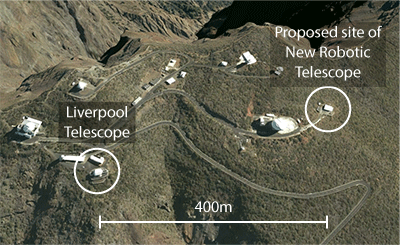 Location of the LT and NRT in the northern part of the Observatorio del Roque de Los Muchachos, on the summit of the island of La Palma in the Canary Islands, Spain. Image credit: Google (aerial pic), J.Marchant (annotation).
We have recently launched a new website for the Liverpool Telescope 2 or "New Robotic Telescope (NRT)" project. The webpages at www.robotictelescope.org detail the science case, NRT team and latest news items in relation to the new telescope.
The NRT team are currently preparing the Phase A design of the new 4-metre fully robotic and autonomous telescope, ready for a design board review in the Spring. The NRT will slew faster than the LT and be on target taking data within 30 seconds of trigger, allowing us to explore more rapidly fading targets.
The proposed location for the NRT is 400 metres from the LT on La Palma at the disused Carlsberg Meridian Telescope site, 100m from the William Herschel Telescope. There are also plans in place to repurpose the LT to support the scientific operations of the NRT and facilitate gravitational wave follow-up, along with facilitating a variety of new projects for the National Schools Observatory. The re-design of the LT is to allow a 2°×2° wide-field camera and a fibre-fed spectrograph as the main two instruments.
Keep an eye on the NRT website's latest news for updates on funding and design board reviews.