Astigmatism problems in LT optics
1630 GMT 26 October 2005
Following the recent engineering visit during which the mirrors were removed, recoated and replaced, very clear astigmatism has become apparent in LT data. Do not worry; there is no suggestion here of any damage to the optics themselves. The problem is believed to be purely mechanical. There is another trip planned for December 2005 during which a proposed fix to this problem will be commissioned.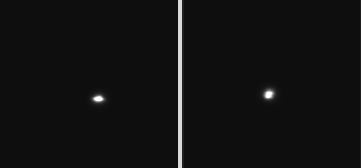 Astigmatism example: (left) smallest image area, and (right) slightly defocussed & more circular area.
Until that engineering visit we have a choice of how to focus the telescope. We can have the smallest images possible or the roundest. In an astigmatic system, the two need not be the same. The difference is illustrated in these images. By default we will always attempt to maintain the smallest stellar image area (i.e. left panel), as we believe this is what would be favoured by most observers.
If the highly astigmatic image is a problem for your science programme, please contact the LT Support Astronomer (

) and we will see what we can do in terms of defocussing your observations slightly to give the larger, but more circular seeing disc illustrated in the right panel.
We hope that this problem can be fully resolved with the next scheduled engineering visit.