Liverpool Telescope catches its first gamma ray burst
8 October 2004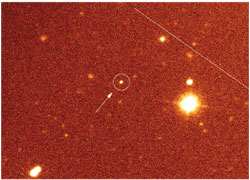 GRB circled, 9.8 hours after burst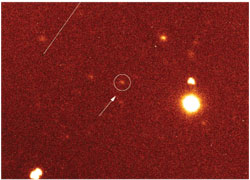 After 14 hours
On Wednesday 6 October 2004 a team of UK astronomers from Liverpool John Moores University and the University of Hertfordshire used the world's largest robotic optical telescope, the Liverpool Telescope, to detect the optical light, or afterglow, from a Gamma Ray Burst (GRB).
"Gamma ray bursts are the most energetic explosions in the Universe and it is very exciting to have detected a Gamma Ray Burst afterglow for the first time with the Liverpool Telescope and then to watch it fade," said Dr Carole Mundell, JMU's Astrophysics Research Institute.
GRBs represent the most important astrophysical object since the discovery of quasars and pulsars. Since the first optical afterglow of a GRB was only discovered in 1997, there are many unanswered questions about their nature remaining.
The Liverpool Telescope is a 2m optical and infrared telescope that stands 2400m above sea level on a mountain top on the Canary Island of La Palma. It took its first images of the sky last year and is specially designed to respond very rapidly to notification of cosmic explosions by X-ray and gamma-ray satellites such as NASA's HETE-II and soon-to-be-launched Swift.
Dr Nial Tanvir, University of Hertfordshire said: "We expect the Liverpool Telescope to make a vital contribution to our understanding of the origin and physics of Gamma Ray Bursts due to its unique combination of size and rapid robotic response."
Gamma ray bursts are the most luminous transient objects in the Universe and are thought to be caused when a massive star in a distant galaxy reaches the end of its life, collapsing to form a black hole and, in the process, ejecting a jet of material at ultra- high velocities. The so-called optical afterglow is thought to originate from light emitted when this material crashes into the gas surrounding the star.
In the first few minutes after the initial burst of gamma rays the optical and infrared light carries the clue to the origin of these catastrophic explosions but has been difficult to capture with traditional telescopes.
Mundell continued: "The Liverpool Telescope is specially designed to catch this early light and probe the physics of these objects at the earliest possible times."
JMU's new images show the sensitivity of the Liverpool telescope and demonstrate the relative ease by which it is able to detect even faint afterglows compared to other robotic telescopes.
This robotic capability enabled JMU's astrophysicists to take a number of images, in 4 different colour bands, over a period of about 4-6 hours. When combined with brightness measurements made by other international telescopes, JMU's measurements will be important in constraining the colour evolution of the afterglow, the break point in the light curve and hence the energetics of the explosion.